Meetings Programme 2018-19
Welcome to our meetings page. You can see that our year runs from September through till June.
All presentations (apart from the Local History Group) are usually held at the Northcourt Centre, Northcourt Rd. Abingdon, Oxfordshire OX14 1NS.
at 7.45 pm. [See the image on the right and
MAP ]
Attendance for Members is free and visitors are welcome (suggested donation: £3.00). If you are interested in joining the society, please speak to any comittee member who will be identified by their badge.
There is on-site parking and dedicated disabled spaces. Refreshments are available on most evenings.
Please check this page for changes and updates.
Thursday 20 September 2018

The meeting will start with the AGM.This will be followed by a talk.

Thursday 18th October 2018
Victoria Bentata Azaz: Oxford in the History of Medicine from the 13th to the 21st Century.
From the award of the first DM in the 13th century, Oxford has been a hotbed of medical inquiry. An extraordinary bevy of geniuses emerged in the 17th century to make ground-breaking discoveries about the nature of the human body and the natural world. In the 20th century, Oxford was at the forefront of medical research, with numerous Oxford scientists winning Nobel Prizes in Physiology or Medicine for everything from Penicillin to the development of the Hepatitis B vaccine. It remains one of the worldís leading centres of medical research and teaching in the 21st century. Come and learn about some of the personalities and ideas involved in Oxfordís medicine over the past 800 years.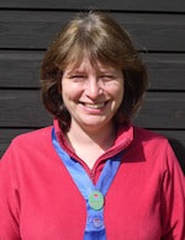 Victoria Bentata Azaz is a graduate of Oxford University and a Green Badge Oxford tour guide. She gives tours on all sorts of subjects to all sorts of people. For more details, see www.oxfordcitywalks.co.uk
Thursday 15th November 2018
Michael Bloom: A History of Georgia in the Caucasus Mountaims
This comprehensively illustrated talk will cover the history of Georgia from earliest times to the present day, and will include social and cultural as well as political aspects.
[Image shows Gergeti Trinity Church by courtesy of Lidia IIona]
Michael Bloom has been involved with Georgia since 1988 when he first visited it as part of the then Soviet Union. He began to study the choral folk music tradition of the country in 1995 and, through this interest, met his Georgian wife Eliso which cemented his involvement with the country. Regular visits followed during which he travelled all over Georgia and deepened his interest in all aspects of the country.
Thursday 20th December 2018
Thursday 17th January 2019
Dr Philip Kenrick: Romans in Algeria - a neglected but impressive heritage.
Part of modern Algeria was the kingdom of Mauretania at the time of Christ, and its king Juba II was a close friend of the Roman emperor Augustus. Later, Roman provinces straddled North Africa and supplied Italy with grain, wine and oil; prosperous cities grew up, together with huge farm estates.
The visible remains were initially plundered by the invading French military in the 1830s, but were later treasured and excavated as evidence of a preceding 'advanced' European civilization. Since the independence of Algeria from France in 1962, little further work has been done, but the museum collections and the ruins are still stunning.
Image shows the Militart Headquarters of the Legia III Augusta
Philip Kenrick is a classical archaeologist who has worked in many parts of the Mediterranean world (and in Colchester) as a specialist in Hellenistic and Roman pottery. Much of his work has concerned Libya, for which he has written two archaeological guides. More recently, he has taken an interest in Algeria, for which another archaeological guide is in press.
Thursday 21st February 2019
Ruth Weinberg: Abingdon on Tap - the Story of our Water.
Thursday 21st March 2019
Thursday 18th April 2019

Lesley Best and a Wulfheodenas: House of Wessex Project.
In 2016, the remains of an important Anglo-Saxon building were discovered on Sylva Foundation land at the Sylva Wood Centre at Long Wittenham. Working with teams of volunteers we will accurately reconstruct the Anglo-Saxon building, on its original footprint, using treewrighting techniques, tools and materials faithful to the 7th Century. With a living history society, the Wulfheodenas, we will hold public open days at the site.
Thursday 20th June 2019
The September 2019 meeting will include the AGM