We are closely following the latest government advice from https://www.gov.uk/guidance/coronavirus-covid-19-information-for-the-public and we will keep you informed of any changes we make. Some of these changes may be at short notice so do check the web site before attending meetings.
In the meantime you may be interested in some virtual archaeology. Details are available under the Links tab.
---
Take a self-guided walk through Abingdon's history. Choose one of seven walks that take you to more than 40 buildings. Each walk gives you direct weblinks to articles on the buildings and the people associated with them.


SEVEN WALKS LOOKING AT ABINGDON'S BUILDINGS
---
The Abingdon Area Archaeological and Historical Society
The AAAHS was founded in 1968, and since then it has been the principal meeting point for all who have an interest in the past of Abingdon and its region. The AAAHS Constitution can be viewed here.
The society organises monthly lectures by acknowledged authorities on topics related to history and archaeology and to those of Abingdon in particular. There is also, during each summer, a programme of visits to sites of particular significance. Members are encouraged to write for the Society's bi-annual newsletter, which is published on the website.
The society encourages its members to pursue their own research interests, either independently or within its special interest groups, and supports these financially so far as its means allow. Its archaeological group, the longest established, has carried out numerous excavations in and about Abingdon; many of these have been published while others are currently being prepared for publication. The local history group was established in 2000 and since then has taken a number of initiatives, notably including the Ock Street Heritage project of 2006-8 and the 'Abingdon Buildings and People' history website . The society provides guides and lecturers, and cooperates with other local organisations on projects of civic importance.
If you want to join the AAAHS, there's a Membership Form on this website, or you can contact any of the committee members. Visitors are very welcome to attend meetings at a cost of £3.
You can also follow us on Twitter - click to go there.
Next AAAHS Talk:
Thursday 17th December 2020
This online Zoom presentation is available to our members. It will take about 50 minutes. Invitations will be sent to members the day before, do look out for them. Please make sure we have your latest email.
We will start letting members in from the waiting room at 7.40 p.m. and the meeting will start at 7.45 p.m.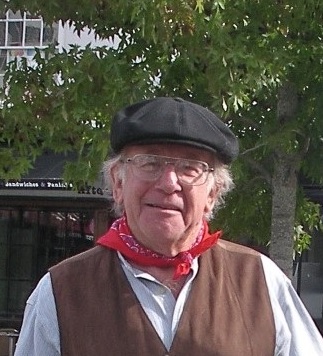 Martin Buckland has been interested in Industrial Archaeology from the age of 4 when watching Great Western trains with his Dad at Iver where he was born. Nearly seven decades later he is involved with the Great Western Society at Didcot Railway Centre and with the restoration of the Wilts & Berks and other canals.He gives talks at Abingdon Museum to primary school children about what it was like to live on a working narrow boat and leads walks along the historic and proposed routes of the Wilts & Berks Canal and another covering the rivers of Abingdon. He is a valued member of AAAHS.
---
Next Local History Group (LHG) Meeting:
The next LHG meeting for 2020 will be on the following date:
Tuesday 17th November 2020 at 19.45 on Zoom, people being admitted after 19.30. Do make a note of this date.
The Local History Group had a meeting in October that went well and it was decided to have them on a monthly basis, till not. This is an informal meeting so microphones will be turned on so anyone can talk. We decided to make a theme for this one, and it is 'Resources for local history research.' It will probably stray off subject, but that is where we will start.
Zoom invitations will go out the day before. Click on the link and wait to be admitted..
Following meetings will continue throughout the year on the third Tuesday of the month on Zoom.
AAAHS Local History Group Convenor
Please find further details in the Current Activities - Local History Group section on this site.