Local History Group February 2018 meeting.
The next meeting of the Local History Group will be on the 20th of February 2018 at our usual venue. More information is on the Current Activities: Local History page on this site.
February 2018
Meeting Dates for the 2018-2019 season.
We know it appears to be a long time away, but we have the information so so shall you. The dates for our 2018-2019 speaker season have been added to the end of present season on the Current Activities, Meetings Programme page. For the moment there are just the dates but we will add speaker details once we have them confirmed. Keep looking!
Vacancy on the AAAHS Committee
Manfred Brod is no longer serving on the committee as he has served his maximum time there. He was Secretary, Newsletter Editor and Web-master. So well did he do these jobs that we have yet to find an individual who is willing to take them all on. If you are able to help the running of this Society by helping with just one of these jobs, or would like to know more – no commitment – then please contact any member of the Committee. You will be greatly welcomed!
January 2018
The 24th Annual Exhibition featuring the Lockinge Estate Past and Present in the Loyd Lindsay Rooms, Ardington, Wantage OX5 8PS 'Cottages and Tenants'.
Saturday 3rd and Sunday 4th March 2018, 2-5pm. Admission Free.
March 2018
The AAAHS are always looking for new material to exhibit - photographs, information, memories..... If you can offer something please get in touch through this site or take it in to the library, where photographs will be scanned and returned.
Publications and lectures by AAAHS Members

November, 2016
Two New Recollections

We have two new additions to the Recollections section in the Research Archive.
One is the Ron Chung papers; Old courts and slums of Abingdon. Ron was a resident of both the courts and 'Hollywood' and was able to record who lived where before the courts were removed. The papers are in the form of notes for a book that was never published.
The other, The Argyle Dairy, is by Sandra Lewis, living in Canada, who has combined family tradition with her own research to give an account of the Argyle Dairy originally set up by her great-grandparents in Victoria Road.
November, 2016
Lecture by Air Vice Marshall Peter Dye: Above The Dreaming Spires 'Oxfordshire's Great War Aviation Story'.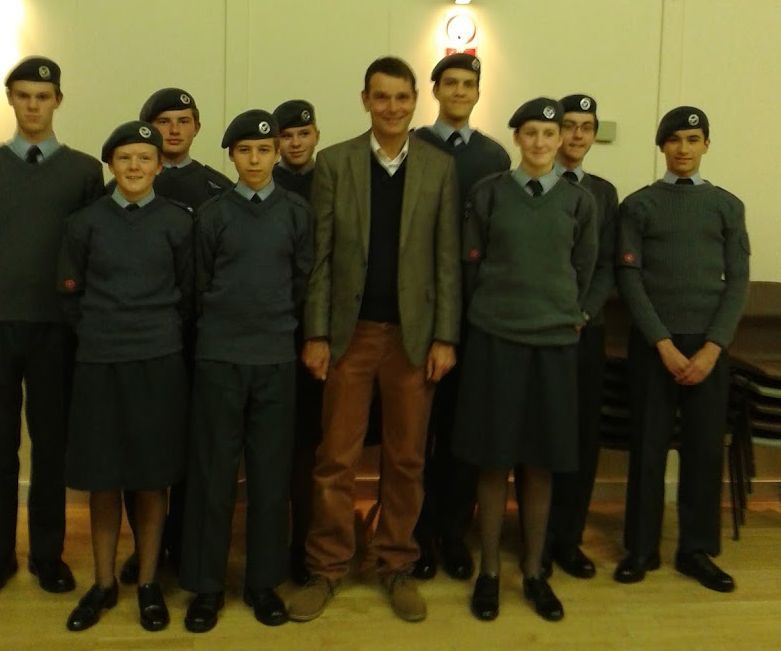 On the 20th of October we had a very successful talk by Air Vice-Marshal Dye. He outlined some of the characters and places that are part of our local early flying military history. Due to advance enquiries we had we expected a large attendance and on the night we nearly ran out of chairs. We were honoured to host a group from the local Abingdon Air Cadets that had seen the talk was on and wished to attend.
John Foreman, October 2016